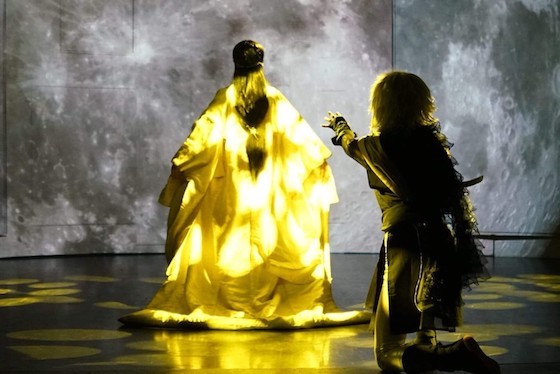 Non verbal show!
It's based on a famous, old story called 'Taketori Monogatari.' You will be attracted by ninja's activities
called ninjutsu and the fighting scenes with ninjas. You will also enjoy a lot of unique characters:
geeks, fiends, wealthy merchants and warriors. This is the best play that entertains all of you!
In Japan There is an old story: The incredibly beautiful princess Kaguya, who was born in a bamboo, rejected the proposals from many men and went away to the moon.
It was said that a man, who married the princess, would rule the world.
Now it is Sengoku Era. A baby is about to be born in a bamboo.
​
Here is a ninja whose name is Gekko.
He casts a spell and pulls people's strings. His spell enchants all the people like the moon lighting at a black night.
Now many men are gathering here to make the princess his own…
[Schedule]
November 7th – 25th, 2018
Sunday, Monday, Wednesday, Thursday : 9pm.
Friday, Saturday7pm, 9pm.
*every Tuesday off
*7pm, 9pm. DOOR OPEN 15 minuites before the show starts. Show time 1 hour
[Place]
Dotonbori ZAZABOX
B1 Nakaza Kuidaore Bldg, 1-7-21, Dotonbori, Chuou-ku, Osaka,
[Price]
IN ADVANCE / adult 2500 yen, child (Under 12 years old) 1500 yen.
ON THE DOOR / adult 3000 yen, child(Under 12 years old) 1800 yen.
Non-reserved seat
[Booking]
We are planning to release a ticket from October.